When it comes to perfecting your products, materials make all the difference. It's why we offer such a variety: one size definitely does not fit all!
Below are the kinds of materials we offer depending on the kind of product they're used for, along with an explanation of their characteristics. If you're struggling to choose or need some guidance, don't hesitate to Contact Us for advice.
Paper Weight Chart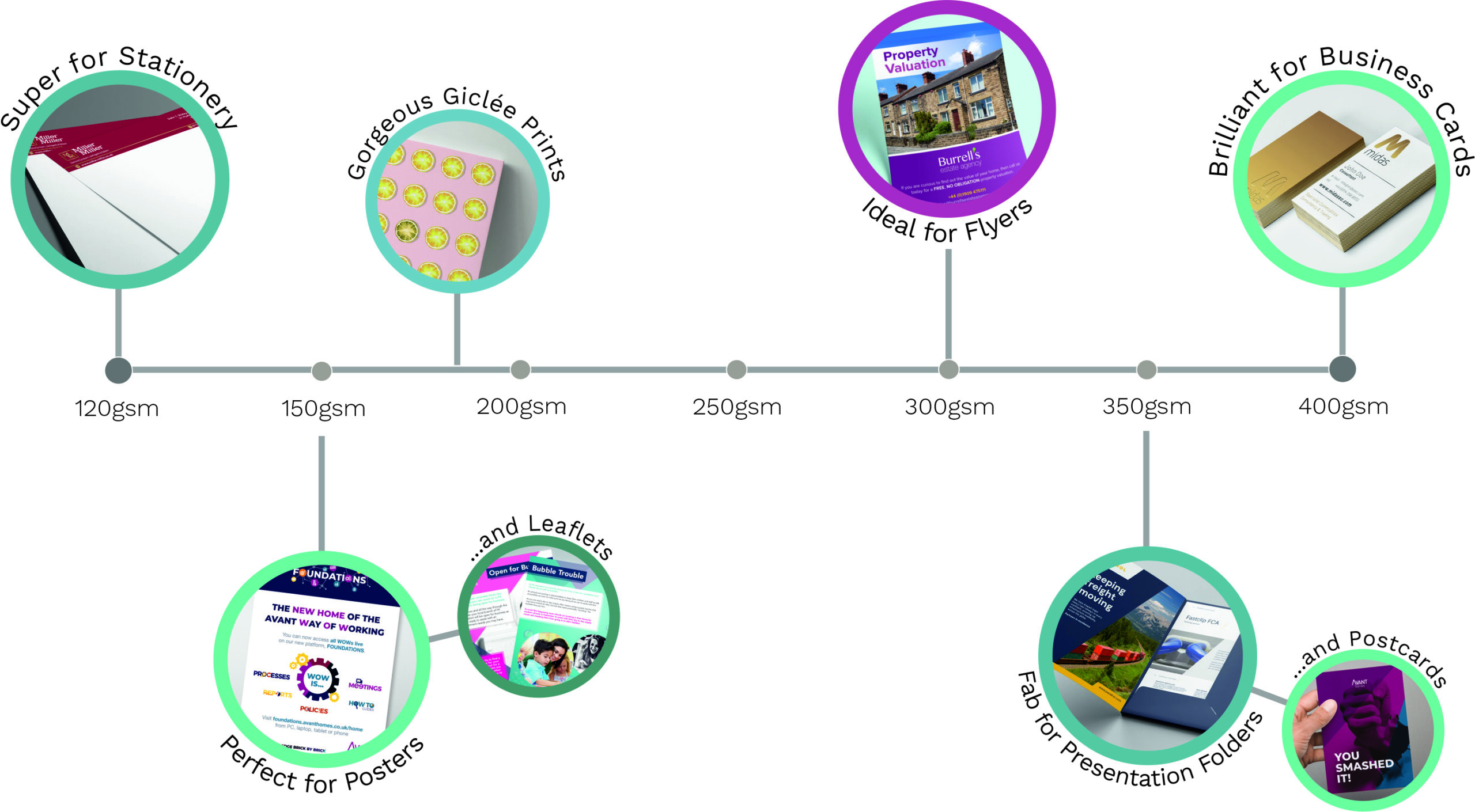 Paper & Card
Copier Paper
Your run-of-the-mill standard copy paper. Supplied at 80gsm and perfect for general printing, such as documents or photocopies.
Silk
Silk is a coated paper that improves on the luxuriousness of regular uncoated paper. It has a slight sheen to it without the full-on gloss effect, improving durability and quality whilst preserving text readability. For this reason, silk paper is most often used for posters, leaflets and brochures, or any other print product that is information heavy.
Gloss
Gloss, as its name suggests, has a much more prominent shine to its surface. Inks appear vibrant on the surface but fine print is a little more difficult to read on gloss paper compared to its counterparts, making it an ideal choice for more eye-catching promotional items such as postcards, leaflets and brochures.
Note: Do not confuse 'Gloss Paper' with 'Gloss Lamination' as lamination is an extra plastic coating on paper - see 'Laminated Papers' below.
Matt
Matt is a paper with a non-glossy, flat appearance, giving a design all the vibrancy you would expect from a coated paper but without the sheen. Readability is maximised and its surface is smooth, making matt the ideal choice for products made to write on, such as maps or plans.
Note: Do not confuse 'Matt Paper' with 'Matt Lamination' as lamination is an extra plastic coating on paper - see 'Laminated Papers' below.
Uncoated
Uncoated paper is typical paper with a thin layer of inkjet-receiving coating, allowing colours to be absorbed onto it with a vibrant, pristine appearance. Its low cost and high quality makes uncoated paper perfect for any promotional venture on a budget.
Kraft
Kraft is a great choice for an environmentally friendly campaign, as its creation process includes using chemicals that are completely recoverable and reusable. It's tough to tear and offers a unique, vintage appearance compared to white paper types. We offer a range of products in Kraft, including business cards, gift wrap and stickers.
Recycled
Although all of our papers are already recyclable as standard, we also offer an alternative paper that is created using recycled materials. It has an off-white colour and is more absorbent than our coated papers. Every paper product we supply can be printed on a recycled alternative.
Laminated Papers
Lamination involves of applying a thin layer of plastic to a printed material. It adds texture and enhances protection of the document, which often makes it necessary for products that lack sturdiness or require some extra sheen.
Why use lamination?
There are many benefits to laminating your products, though it isn't always necessary. It's particularly useful for material that will be handled and reused often, as the additional durability it supplies assists in preventing wear and tear, such as creasing and staining.
Laminating is a common practice for brochure covers, luxury business cards, posters and postcards, but most of your print products can be laminated. Just ask!
Gloss Lamination
Arguably the most popular choice of lamination is gloss. It coats paper in a shiny, reflective layer that enhances the contrast of images and text, making it suitable for products that demand the extra attention it brings.
Gloss lamination also repels marks that may land on the surface of the product, such as fingerprints, dust and dirt. It can also be wiped clean with ease, enabling you to keep documents looking as good as new.
Matt Lamination
Unlike gloss, matt lamination offers a non-reflective, soft surface, minimising glare and enhancing the readability of your print. It supplies a more natural look that's considered to be more luxurious than gloss, most appropriate for products that need to deliver on professionality.
Contrast is less apparent when utilising matt lamination – keep this in mind when choosing your style!
Large Format Paper & Materials
Satin
For large format print that demands attention, such as indoor posters and exhibition print products, satin is a great choice to consider. It has little reflection to its surface for maximum print visibility and colours appear more vibrant in comparison to other paper types. High contrast of colour and clarity is preserved whilst providing a more professional finish.
Matt
For large format products such as maps and plans, Matt paper is ideal, as it has a flat surface perfect for writing on. It is typically provided at a weight of 180gsm, which is an ideal medium weight for this kind of product.
Photo Gloss
Photo Gloss Paper offers a shiny, sleek surface, ensuring your treasured memories are preserved in all of their vibrant glory. We typically print onto 260gsm gloss paper for slight thickness and durability.
Adhesive Vinyl Matt
Adhesive Matt is a sticker material that offers the same surface qualities as its paper counterpart: the same smooth, flat surface, only used for application purposes. It can be attached to a variety of surfaces for both indoor and outdoor use thanks to its waterproof properties. Great for decorative purposes within the office, Foamex boards and outdoor signage.
Polyester Film
This material is used for our Roll Up Banners. It possesses a textured, anti-reflective white surface, allowing for unmatched contrast between colours and a luxurious finish.
PVC-Free Polyester Banner Film
This material is used for our Eco Roll Up Banners. It's created without the use of chemical ingredients. With a resistance to water and colour fading whilst maintaining colour crispness and vibrancy, it makes for an excellent guilt-free choice over our regular Roll Up Banners without sacrificing quality.
Polyester Canvas
Our canvases use stretched polyester canvas material, heat printed upon to create luxurious, rich images. It is water-resistant and ideal only for indoor use.
Wedding Cards/Paper/Materials
Conqueror Wove
Woven paper is a smooth-surfaced material available in four colours: brilliant white, off-white, oyster and cream. It is very premium quality and available in multiple thicknesses, making it an ideal choice for luxury items such as invites and information cards.
Conqueror Contour
Contour paper is the same premium quality as wove paper, but with an additional, subtle texture to its surface rather than laying completely flat. Like woven card, it suits invites and invitation cards due to its luxuriousness and variety of thicknesses.
Signage Materials
Foamex
Foamex is a material comprised of compressed PVC foam to create a lightweight and strong board. It is very durable and commonly used for display purposes such as temporary signage, banners and display panels. It offers rigidity, is water/weatherproof and UV resistant, lasting up to 7 years when used outdoors and 10 with indoor use.
Dibond
Dibond boards are formed by sandwiching a polyethyene core between two layers of aluminium. Much like Foamex, it is light to carry and very rigid, but copes with outdoor conditions far more efficiently. It does not corrode or rust easily and is completely waterproof, boasting a lifespan of up to 15 years. Safety signs are often printed onto Dibond board for these reasons.
Correx
Correx is a low-cost, lightweight and weatherproof sign material with a few commonalities to Foamex and Dibond. Whilst it is suitable for outdoor use and has elements of durability, it's more appropriate for temporary signage such as property signs, event graphics and exhibition directional signs, as it has less of a tolerance to weathering and general damage. Its physical appearance bears a similarity to cardboard if it was made out of plastic.
Pulpboard
Pulpboard is a solid, uncoated bleached board, perfect for general signage. It's made from coarsely pulped paper to form a thick material that absorbs print very well. It's only suitable for indoor use, but ideal for just about any kind of sign.
Vinyl & Polyvinyl Chloride
Vinyl is a versatile material that is suitable for a variety of signage solutions. In its soft, low-micron form, it's ideal for floor, window and label stickers due to its durability and ability to showcase crisp print outlines. A thicker vinyl is ideal for banners, as it boasts a waterproof surface and utilises fade-resistant inks for printing.
Mesh
Also made out of PVC, mesh is a suitable option for banners that will be placed in windy conditions. Mesh material is perforated with small holes that allow wind and light to pass through, limiting damage to the banner and reducing its weight, meaning that they can be placed almost anywhere – indoor or outdoors – for maximum visibility.