When it comes to getting your businesses' name out there, it doesn't get much more exciting than utilising customised promotional items.
They come in all shapes and sizes, each bearing multiple purposes but with one primary goal: to bear your brand loud and proud.
Due to their practicality, it's difficult for customers to throw a promotional item away, meaning that they tend to stick around – meaning your brand will, too! They're inoffensive and inexpensive, yet sure to impress your potential clients.
What kinds of promotional items do you offer?
The possibilities are endless when it comes to promotional items. Think back to the last exhibition you went to – what was the most memorable freebie you received?
What we currently have available on our website are our most popular choices for promotional items, but whatever it is you envision for your package, we can most likely supply it. Contact Us if you have something a little more bespoke in mind compared to our presets.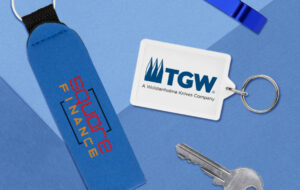 Keyrings
We offer a variety of keyrings, each with a unique purpose and style. Bottle opener keyrings are one of our favourites, as they're simply so handy to have around!
Clothing
One of our newest additions to the range, clothing really uplifts a branding package. They're perfect for company events and exhibitions and work wonders as comfortable slip-ons for lounging around in.
With almost any garment able to bear print, there's endless possibilities for your branding.
Pens
Customised pens have one of the biggest ranges available on our website. They're one of our biggest sellers when it comes to promotional items, and it's easy to see why!
Pens will always have a place in the office. They're more than often used daily, so why not embellish them with a logo for all to see?
From twist-click to recycleable to curvy, there's guaranteed to be a pen that's suited to the theme of your business.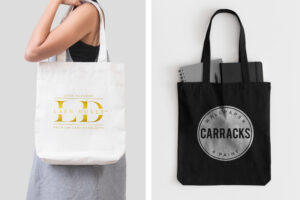 Bags
Give customers the ability to showcase your brand on-the-go with a customised bag.
Whether it's a tote, shopper or drawstring bag, they're the high-visibility promotional item sure to turn heads.
Stickers
Typically used for product packaging, stickers are also brilliant finishing touches to promotional packages.
Our stickers on rolls make perfect hand-outs and freebies for any promotional occasion. Stick them here, there and everywhere for instant impact!
Mugs
Perfect for pick-me-up coffees in the office and at home, a custom mug branded with your company logo is sure to put out a message. Their presence is a sure-fire way of having your brand reach top visibility.